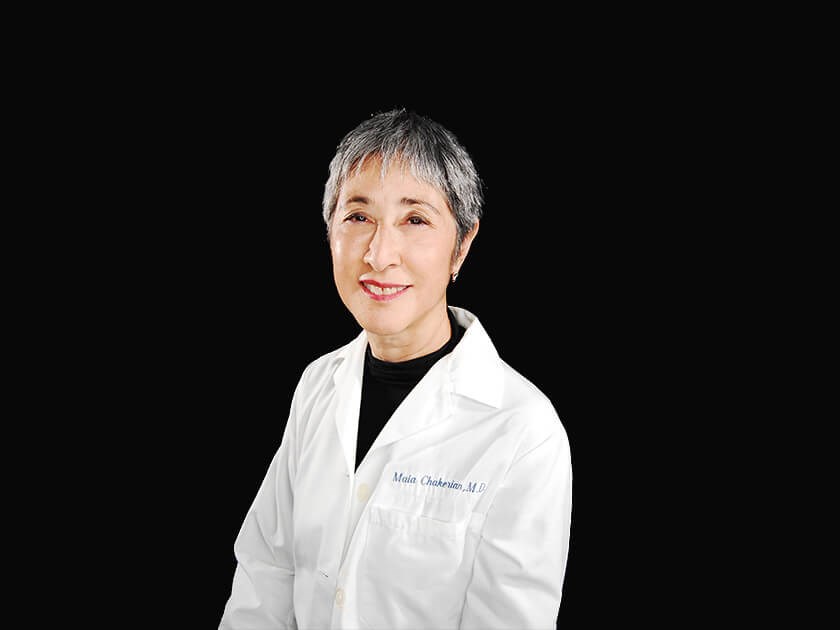 Dr. Chakerian is an experienced, board-certified anesthesiologist with a background in pain management and aesthetics. Her desire to help patients achieve their cosmetic goals inspired her to open Sereno Santé.
Bachelor's degree, Pomona College (graduated cum laude) - Claremont, CA
Medical Doctorate, University of New Mexico - Albuquerque, NM
Residency in General Surgery, University of New Mexico - Albuquerque, NM
Fellowship in Burn and Trauma, University of New Mexico - Albuquerque, NM
Residency in Anesthesiology, University of New Mexico - Albuquerque, NM
Fellowship in Pain Management, University of Washington - Seattle, WA
Board certification in Anesthesiology
Three separate Pain Medicine qualifications added to board certification
Dr. Chakerian holds memberships with the California Medical Association, the Santa Clara County Medical Association, the American Medical Women's Association (South Bay chapter), The Spinal Intervention Society, and the North American Neuromodulation Society.
Reviews
"Very thorough exam. Made every effort to get to the heart of the problem I'm having and to best treat it. I appreciate your role in my care.  I highly recommend this doctor."
C.B.
Yelp
"I am a medical professional and am "in the know" about who are the best doctors to see for my own medical conditions.      I have found Dr Chakerian ( and her office staff ) to be welcoming and competent.  I am very happy to know that she abides by the high ethical and moral standards expected by her profession.   She is very warm and an excellent clinician.  She has the very difficult task of treating some chronic pain patients who may also have a high psychological component to their pain so of course, as in the case of some previous Yelp comments, they are the ones to complain.   I, myself, am very happy with my treatment. Unfortunately sometimes the ones with hidden agendas are the ones to post on this site.     And  no, I  am NOT one of her colleagues.  It's good to give positive feedback when it's due!"
M.H.
Yelp
"My husband began seeing Dr. Chakerian in December of 2012 for chronic back  pain. He had herniated discs in his neck. Dr. Chakerian treated him well, was considerate of his pain, never recommended a procedure for him that we felt was unnecessary. She was responsive to emails and phone calls. She explained things to our satisfaction and answered all the questions we could possibly come up with. My husband recently had surgery to correct his problem and her follow up visit to thorough and helpful.  As with any doctor dealing with someone in chronic pain, it is an on going battle to find what works and what doesn't work. In an division of medicine, where patients can be prone to abuse the treatment, it is up to the doctor to monitor them and be very certain of everything they are taking. Her job is to treat the pain and help the suffered manage the chronic pain they have. With my husband she did a great job."
S.C.
Yelp
"Caring, honest, responsible with follow-up care. Places patient's needs first! She has been my doctor for more 10 years. I would never change her care for anyone else. Extremely patient in managing health insurance loops & challenges. Outstanding!"
T.
Healthgrades
"This review only contains a rating"
D.N.
Google